When Should I Start Saving for College?
Determining the right amount to contribute to college savings can be complicated and depends on your family's financial situation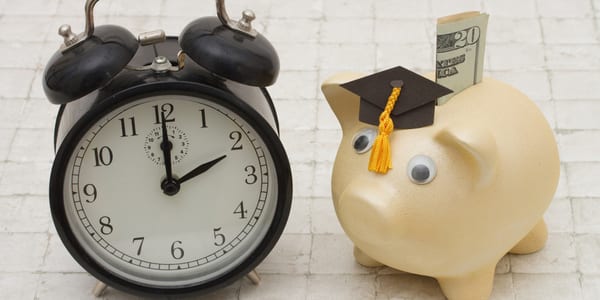 For many parents, it can be difficult to contemplate saving for your children's academic future while you're still fulfilling your own financial goals and obligations. But starting to save as soon as possible—perhaps before your children are even born—will go a long way toward avoiding the crushing weight of student loans down the road.
529 College Savings Series
Start saving in your 529 plan as early as you can
According to CollegeData.com, a public four-year college costs an average of $24,610 which includes tuition, room and board, food, and additional expenses. That's roughly $98,440 for four years. If you start saving for a public university while your child is in the first grade, you'll need to set aside $8,203 per year. If you start when your child is in 8th grade, that number more than doubles to $19,688. You need to contribute twice as much per year if you wait to start saving. Compounding interest, the 8th Wonder of the World according to Albert Einstein, means your interest earns interest. Combined with a tax-free account, time is on your side. Not only does starting early give you more time to stow away funds, it also prolongs your compounding interest to increase your payout.
Pay yourself first
Determining the right amount to contribute to college savings per month can be complicated and depends on your family's financial situation. It's easy to lose sight of your plan for retirement when saving for your child or grandchild's education. While your children are just beginning their adult lives, you're in the midst of planning for the remainder of your own. Many parents let their retirement funding take a backseat to their children's college costs. However, doing this may prevent you from retiring when you want—if at all.
Pay yourself first. Take a look at your discretionary income to figure out how much you can feasibly contribute to your child's education. You cannot take loans for retirement, but you can for college. Fund your retirement first, then contribute what you can from the leftovers. Talk to a financial advisor to determine the right amount to set aside for your kid's college. Questions you'll need to answer to determine the right amount are:
Have you socked away enough living expenses for 3-6 months? Do you have an emergency fund?
How much are you saving for your retirement today?
What debt do you have? Does any of this debt have a high-interest rate?
Are your student loans paid off?
Compare public vs. private tuition when calculating your 529 contribution
Another significant factor when setting a monthly college savings goal is whether a student is headed to public or private college. You'll need much more for a private institution. When you open a 529 plan, your child may have no clue where they want to go to college or what career they want to pursue. Depending on how much you plan to contribute to their education, you may make part of that decision for them.
It's no secret that private four-year universities carry a much higher sticker price than their public counterparts, often at double or more the rate. Scholarship America reveals that a public education can cost nearly $21,000 less per year than a private school.
As Debt.com's Dori Zinn notes, "When we tell our children they can go anywhere and do anything, maybe we should also include: if you can afford it. Otherwise, parents may be expected to foot the bill. It's already starting to happen as most kids anticipate their parents paying for college regardless of how expensive the school is."
If your child doesn't know what they want to do, you should consider a junior college. You can buy a condo with the $44,000+ (in-state) or $92,400+ (out-of-state) money you'll save in tuition, plus it gives them time to figure out what they want to do with their lives. In addition, you can look for programs like Running Start in which high school students can earn college credits tuition-free. This can result in savings between $50,000-$100,000, depending on if your child matriculates to a state or private university.
Start saving for college for your child, grandchild, or anyone else as soon as you can. How much to contribute to your 529 plan largely depends on your unique situation and the college that the student aspires to attend.
Talk to a Certified Financial Planner to determine the best plan to fit your situation. Your investment might be the difference between four years of college payments or a tough financial lesson you'll be paying on for a lifetime.
Read other posts in our 529 College Savings series: