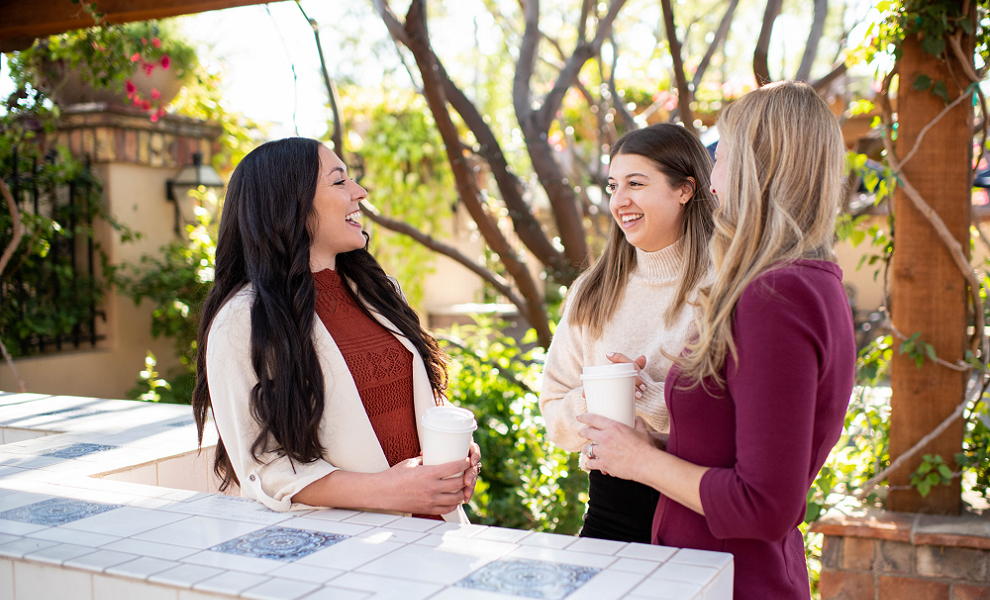 Your growth fuels ours
We believe great culture is something we create together. At Brighton Jones, you're not just joining a company. You're adding to it. We're engaged, passionate, and committed to reaching our full potential, both individually and as a team.
Our values drive our work
We believe in building an environment where our colleagues can thrive—a welcoming office where your team always has your back.
Collaboration
We create a fun, inclusive culture that values open, respectful communication and rewards collaboration. Our one-team model, where knowledge and expertise are shared freely, supports creativity, innovation, and results.
Commitment
The needs of our clients, colleagues, and the global community are paramount to how we operate our business. The question "How can I help?" epitomizes our commitment to serving others.
Community
Together, we can achieve so much more than we can on our own. Therefore, we actively build a collaborative community to leverage the power and wisdom of our Brighton Jones network.
Compassion
Everyone deserves to be happy and to have the opportunity to reach their full potential. Our culture is built on inclusion and treating everyone with equity and respect. Doing things for others drives happiness—theirs and ours.
Continuous Growth
The challenges growth brings inspire continuous learning and enhance expertise. Responsible growth creates the foundation for financial and career opportunities that benefit both our clients and colleagues.
Curiosity
We are committed to learning through curiosity. As a result, we always aim to grow in self-awareness, listen for possibility, receive feedback as a gift, and make every interaction an opportunity to learn and grow.
Redefining the future of wealth management
We believe the next transformation in wealth management is taking advice beyond the balance sheet. Learn how we're helping clients align their time and money with their passions and purpose.
Compassion
in action
In addition to pledging 1% of our revenues to over 75 charitable programs and non-profits worldwide, we help our teammates elevate their individual impact.
Unlimited time off for volunteers
Volunteer hours matched at $25/hour
Generous matching for cash donations
Non-profit board member training
How we help you live a richer life
One team, one mission
We are a team of 200 strong going beyond the numbers to help people—our clients, colleagues, and global community—live happier, more fulfilling lives.
JEDI
Diversity enriches our lives and our work.
At Brighton Jones, our mission is to help our clients, colleagues, and the global community live a richer life. The communities we strive to represent encompass people of diverse backgrounds and beliefs, and we recognize that diversity enriches our lives and our work.
We are committed to fostering a compassionate and inclusive culture, one in which all members of the greater Brighton Jones family feel safe to express their unique identities and empowered to reach their full potential.
We live out our mission by fulfilling the principles of Mindfulness-based Emotional and Social Intelligence (MESI) in tandem with the tenets of justice, equity, diversity, and inclusion (JEDI).
Justice: Dismantle barriers to resources and opportunities in financial services so that all individuals and communities can live a richer life.

Equity: Allocate time and resources to help underserved communities gain access to the benefits of financial education and mindfulness-based emotional and social intelligence.

Diversity: Employ and nurture a team that reflects the diverse backgrounds of our clients and prospective clients, both now and as we expand into new markets.

Inclusion: Foster an environment that welcomes all individuals and empowers them to contribute fully to the organization's success utilizing a MESI mindset of vulnerability, curiosity, and candor.
We're consistently ranked a top workplace
For over a decade, Brighton Jones has been included in Seattle Business Magazine's "Best Companies to Work For" — an accolade we share with our 15 locations around the country.
Recently I've had reason to reflect on my years at Brighton Jones and feel so appreciative for the team of people at this company. They are among the best colleagues I've ever had.

– Glassdoor Review, Jul 22, 2021