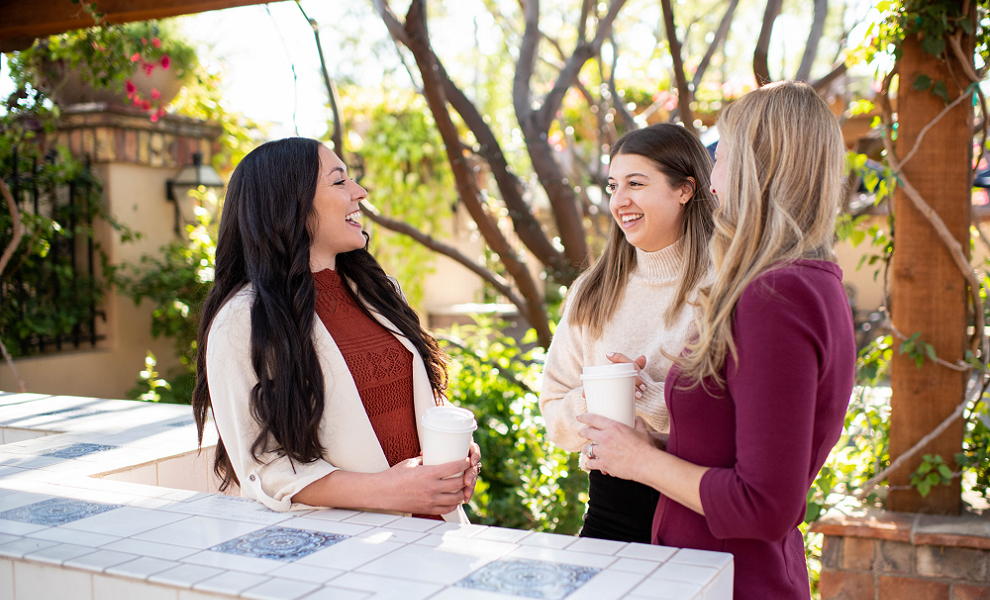 Your growth fuels ours
We believe great culture is something we create together. At Brighton Jones, you're not just joining a company. You're adding to it. We're engaged, passionate, and committed to reaching our full potential, both individually and as a team.
Our values drive our work

Commitment
We're all in and have a 'do what it takes' mentality. We approach every situation with intention and go further by asking, "What else?" regardless of our role.

Curiosity
We have a learner mindset, ask thoughtful questions, invite feedback and listen without judgement. To us, a difference in opinion is a strength, and we seek out diverse points of view by inviting others to tell us more.
Continuous Growth
We embrace continuous improvement to reach our full potential, as individuals and as a #OneTeam. We grow purposefully as a firm to help more clients and provide financial and career opportunities for our teammates.
Compassion
We are a team built on equity, respect, and a genuine desire for our clients, teammates, and global community to thrive. The care we have compels us to turn empathy into action by asking, "How can we help?".
Collaboration
Our culture is based on fun, trust, and belonging. We freely share our expertise to foster creativity and innovation to produce results.

Community
We activate our network to connect our clients and teammates around their values, passions, and purpose to help them Live a Richer Life.
Redefining the future of wealth management
We believe the next transformation in wealth management is taking advice beyond the balance sheet. Learn how we're helping clients align their time and money with their passions and purpose.
Compassion
in action
In addition to pledging 1% of our revenues to over 75 charitable programs and non-profits worldwide, we help our teammates elevate their individual impact.
Unlimited time off for volunteers
Volunteer hours matched at $25/hour
Generous matching for cash donations
How we help you live a richer life
One team, one mission
We are a team of over 200 strong going beyond the numbers to help people—our clients, colleagues, and global community—live happier, more fulfilling lives.
JEDI
Diversity enriches our lives and our work.
At Brighton Jones, our mission is to help our clients, colleagues, and the global community live a richer life. The communities we strive to represent encompass people of diverse backgrounds and beliefs, and we recognize that diversity enriches our lives and our work.
We are committed to fostering a compassionate and inclusive culture, one in which all members of the greater Brighton Jones family feel safe to express their unique identities and empowered to reach their full potential.
We live out our mission by fulfilling the principles of Mindful Emotional and Social Intelligence (MESI) in tandem with the tenets of justice, equity, diversity, and inclusion (JEDI).
Justice: Dismantle barriers to resources and opportunities in financial services so all individuals and communities can live a richer life.

Equity: Allocate our time and treasure to underserved and marginalized communities.

Diversity: Employ a team that is reflective of our JEDI commitment and vision as a company.

Inclusion: Foster a MESI environment that allows all individuals to feel welcome and thrive within #OneTeam.
We're consistently ranked a top workplace
For over a decade, Brighton Jones has been included in Seattle Business Magazine's "Best Companies to Work For" — an accolade we share with our offices nationwide.
Recently I've had reason to reflect on my years at Brighton Jones and feel so appreciative for the team of people at this company. They are among the best colleagues I've ever had.

– Glassdoor Review, Jul 22, 2021